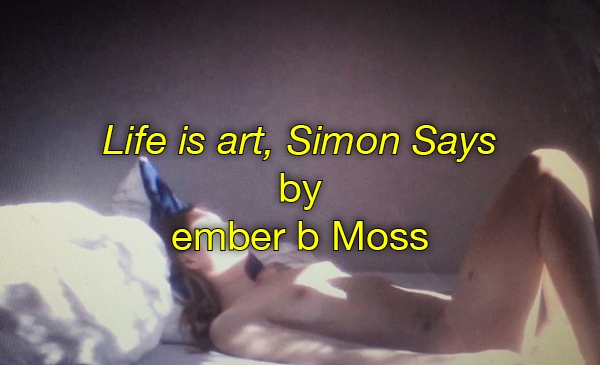 Metta Meditation with Kazu Haga by Irresistible (fka Healing Justice) [podcast] 
Passing for White, Passing for Black by Adrian Piper
Visioning with Adrienne Maree Brown by Finding our Way [podcast] 

Life is art, Simon Says (2020) is a 13-minute film, featuring artist ember b Moss taking part in Kazu Haga's Metta Meditation. As the title of the work suggests, guided meditations' like the child's game 'Simon Says', successes rely not on physical ability alone but more so in the attempts of its players. It is quickly understood through this lens and the vulnerability of ember's offerings, allowing us to gaze upon her and to join her in meditation, that the act of following instructions, of sharing knowledge and resources in this way is a method of resistance and community care.
For the presentation as part of I wanted to tell you..., ember has chosen to frame her work by including a link to the full-length podcast Irresistible - Metta Mediation with Kazu Haga, which is featured as an excerpt in her work Life is art, Simon Says (2020). The second and third links were chosen by ember in relation to the current political events taking place at her university in Copenhagen and her decisions to take sick leave during such events and the pandemic. Passing for White, Passing for Black by Adrian Piper, as ember states, "is an example of a very successful method of resistance that I researched before starting to write my own reflections about methods of resistance in my own work." This text was recommended to ember, by her former mentor Katrine Dirckinck-Holmfeld, who recently took credit for dumping the university's replica of a danish king into the Copenhagen canal as part of a 'Happening'. This event and its fallout, which includes the firing of Dirckink-Holmfeld quickly spilled out into the mainstream Danish media, has divided opinion in the Scandinavian country and ignited discussions about colonial legacies and the limits of artistic expression. The third link is ember's favourite episode of her current favourite podcast Visioning with Adrienne Maree Brown by Finding our Way, featuring Prentis Hemphill, a somatic healer and scholar of belonging in conversation with doula, pleasure activist, women's rights activist, Black feminist and author Adrienne Maree Brown. As ember states "in this episode, they provide some perspective and visions for the present moment we are in. This I think can translate well to any present moment of a body in healing and life determined to move forwards into joy. It can speak to those who are working on holding complexities in their communities and who possess ancestral knowledge in understanding and experiencing ourselves as being in relation to every life, ecosystem and things around us."
ember b Moss is a Croatian refugee, performance and installation artist based in Copenhagen, Denmark that crafts code and essays and identifies as belonging to the human species. Her work finds energy in avid research of somatic healing practices and years of centering self-care within the balancing of her private/professional life. Her visions of the future illuminate the lack in this society that she navigates through as a trans woman. Her late nights and long days are devoted to problem-solving as she is a part of a NGO, Hack Your Future - Copenhagen, where she is a Full-Stack Web Developer Trainee. Moss has recently exhibited at Woman's Museum, Aarhus and Kunsthal Charlottenborg, Copenhagen and is currently on a sick-leave to attend to her mental divergences and to learn about her disabilities. Moss is otherwise doing a double degree as an MFA student at The Royal Danish Academy of Fine Arts, School of Sculpture, Copenhagen and as a BFA student at The Royal Danish Academy of Fine Arts, Institute of Art, Writing and Research, Copenhagen.
Credits
Life is Art, Simon Says features an excerpt from Kazu Haga's Metta Meditation, published on April 7th as a practice on Irresistible podcast (fka Healing Justice).