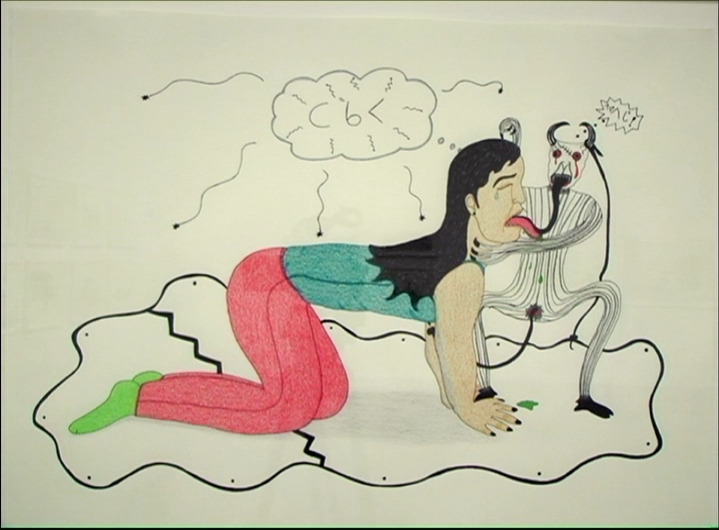 Studio Sunday #2
Screening: ANNIE POOTOOGOOK + GHOST NOISE
Reading and Discussion: 'the ground has been covered' - Jimmie Durham and Jean Fisher (published in Artforum Summer 1988)
Sunday, March 26
3-6PM
---
ANNIE POOTOOGOOK, 24 min.
Marcia Connolly, Canada, 2006, colour
Focused on Annie and her work, the film parallels Annie's own creative process of making and doing. Images of her drawings anchor the film in her art. The transitions, challenges and risks of her life are reflected in her drawings. The shamans, myths and land-based adventures prevalent in the last generation's prints and drawings are less evident. Annie drawings depict today. Local and global collide in her images: a seal hunt on TV; a video play station dominates a sparsely furnished room, walrus meat is eaten on the floor with a modern kitchen visible in the background.
GHOST NOISE 23 min.
Marcia Connolly, Canada, 2010, color / black and white, HDcam
"I do not draw simply the surface of the landscape.
I feel I am capturing the breath and soul of the earth."
An encounter with artist Shuvinai Ashoona in her natural habitat, Marcia Connolly's film adopts the Inuit woman's poetic artistry, which draws its inspiration from the mythological and mundane in equal parts.
---
In the midst of Ashley's community of studios, Studio Sunday is an afternoon of exchange between exhibitions. The semi-privacy of ateliers, amongst various works in progress, provides an intimate setting for dialogue and a casual yet critical environment for productive sharing. One Sunday per month a talk, reading, performance, or screening focuses on varying artistic practices and, within the spirit of exchange, something will be on offer – be it food, takeaway material, a service, or a gift.
Marking the 150 year anniversary of Canada, Ashley Berlin is proudly working in collaboration with the Embassy of Canada