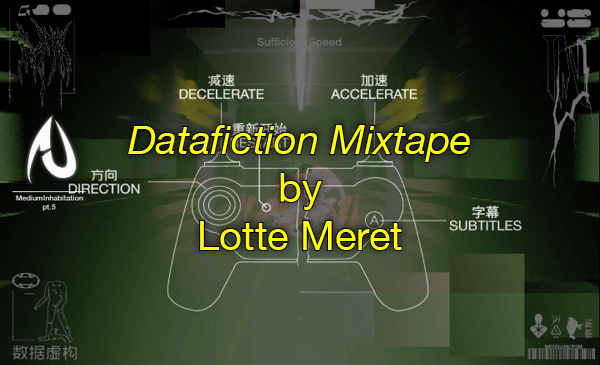 We'll Be Rich Tonight (2011) by Hans Christian Dany
Fan Video Collage of The Weeknd's album After Hours
Begehren als queeres Phänomen. Eine autoethnografische Erkundung (2020) by Eleonora Ciani & Marcus Fassl
Forking the experimental video game Datafiction she developed with Marco Buetikofer in 2019, Berlin-based artist Lotte Meret remixed fragments of their piece into a cyberfluorescent mixtape. The game Datafiction explored the complexities of digitisation and alternative pathways to data-consumption and production. Reworking this with newly produced soundscapes, the mixtape drags you along smooth interfaces, between the crevices of keyboards and into the psychology of the networked self, personal memories perforate protocols and emotional overload finds relief in electrical currents.
To enrich the listening experience as part of I wanted to tell you…, Lotte chose to share the text We'll Be Rich Tonight by Hans Christian Dany. The text played a crucial role in triggering the project in the first place. While researching interactive media, experimental game design and the conditioning of digital technologies, Dany inspired her to produce a work which provokes the listener emotionally. In the same way in which Dany's text swoops the reader off their feet, Lotte aimed to pick the reader up by simulating an emotional pull as they listen to her piece. Observations and analysis of pop music are constant objects of fascination for Lotte, spurring a playfulness in approaching her own work. As another supplement to the mixtape, Lotte invites you to share her pop-enthusiasm by watching a fan-video collage and cinematic journey, which dives into The Weeknd's anxiety inducing album After Hours. As a final note, Lotte encloses an essay she came across by accident in her research as a result of her obsession with Karen Barad. The essay by Eleonora Ciani & Marcus Fassl, which is only available in German, blew her away in their idiosyncratic approach to writing and their experimentation with a very personal (autoethnographic) method of theoretical writing, exploring desire in all its sticky complexity.
Lotte Meret lives and works in Berlin. Her artistic practice focuses on the analysis of the effects of digital media and new technologies on our identity. In videos, installations, performances, publications and curatorial projects, often in collaboration with other artists, the relationship between supposedly fixed identities and our social and economic structures is examined, exploring how we define ourselves in relation to our environment, society and new technologies.
Lotte holds a diploma in communication design from the Karlsruhe University of Art and studied graphic design at the Gerrit Rietveld Academy in Amsterdam. Her work has been presented at Contemporary Art Center, Shenzhen; NRW Forum, Düsseldorf; Goethe-Institut, Beijing; Kunsthal Rotterdam; Kunstverein Leipzig; Waldburger Wouters Gallery, Brussels; Nottingham Contemporary; Ministry of Culture, Cairo; Kunstmuseum Bonn; NAK, Neuer Aachener Kunstverein; Kunsthalle Basel; ZKM, Karlsruhe; Kunstraum, London; Kunsthalle Baden-Baden and at the Arsenale, Venice. Her works are included in international collections such as the Lafayette Anticipation in Paris and Kunstkredit, Kanton Basel-Stadt.
Credits
Tracklist:
Aleksei Podat - I Regret Everything I Have Ever Done Online
Chuquimamani-Condori - Stars Over Riparian Corridor
Stasya - Firme
Valeda - Surrender
Sabiwa - Animals
Hajj - Dad Is Destroying The World For My Sake
33EMYBW - Masudi
Doline - Ooze
noctilucents – walk away
Text-Narration is part of the experimental video game 'Datafiction' by Marco Buetikofer and Lotte Meret which aims to explore the effects of data-production and consumption on our emotions and self-perception.
Text written by Lotte Meret
A quote is in minutes 0:36 till 0:46 minutes from the essay 'We'll Be Rich Tonight' by Hans-Christian Dany / lottemeret.com/public/Links/xcult.org_texte_dany_we-be-rich_e.pdf
Speaker: Johanna Schaefer
Engineering / Sounddesign: Christian Berkes
Copy Editing: Miriam Stoney